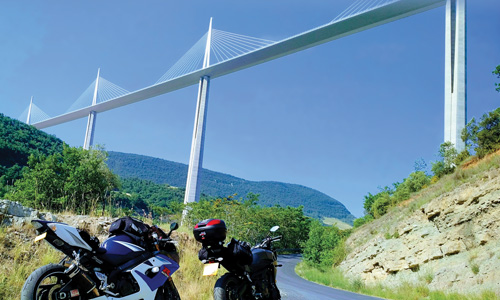 It's touring abroad made easy!
Choose one of our SelfGuided™ tours, the dates that suit you and your ferry crossing and let us do the rest!
We know the destinations and the hotels and have a wealth of knowledge about motorcycling in Europe. Rest assured in the knowledge that your bed is waiting for you at the end of each day and that you will ride some great roads.
Whether you are a single traveller or a group we are happy to discuss an itinerary with you.
Just call on 07889 936 959 for a stress free holiday
More about SelfGuided Tours...
Tailored Tours

It's a package individually prepared for you based on twenty five years riding and organising motorcycle tours in Europe. Your accommodation, meals as specified and your ferry ticket are included as well as overnight stops en route. Extend your tour or add your own arrangements to our standard itineraries – the choice is yours.
If you only want part of one of the tours just call us on 07889 936 959 and we will give you a quotation.

Tour Pack

Your tour pack will include local information, route plans, GPS coordinates, hotel directions, pre-holiday checklist, suggested itinerary, tips for riding abroad and suggestions for planned ride-outs on tour.

Group Bookings

Let us organise it for you! Travel on your own or bring a group of friends.

We specialise in smaller group bookings for clubs and bike dealers.

Call our dedicated helpline on 07889 936 959 and let us do all the planning for you.

Financial Protection

MCI Tours is a FULLY BONDED motorcycle specialist tour operator.

All of our motorcycling holidays carry Certified Financial Protection insurance cover.