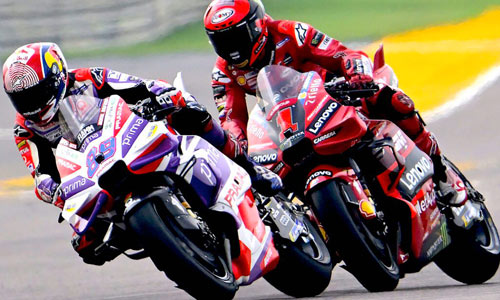 It's Race Meetings abroad made easy!
Ride some of the best roads to MotoGP in Europe.
We sort hotels, ferry tickets and circuit tickets for you in advance. All you have to do is turn up!
We can organise other RaceMeets on a SelfGuided basis. Just tell us where you want to go and we supply you with Route Plans, GPS co-ordinates and book the hotels, ferry and grandstand tickets for you.
If you don't want the whole advertised trip, just give us a call and let us give you a quotation for a "part-package".
Call us on 0800 774 7149.
More about RaceMeets...
Tour Pack

Your tour pack will be sent by email and will include route plans, Ride Out Routes (if appropriate), GPS coordinates, hotel directions, pre-holiday checklist, suggested itinerary, tips for riding abroad.
Your circuit ticket will be posted or given to you at the event by the tour manager.

Group Bookings

Let us organise it for you! Travel on your own or bring a group of friends.

We specialise in smaller group bookings for clubs and bike dealers.

Call our dedicated helpline on 07889 936 959 and let us do all the planning for you.

Financial Protection

MCI Tours is a FULLY BONDED motorcycle specialist tour operator.

All of our motorcycling holidays carry Certified Financial Protection insurance cover.