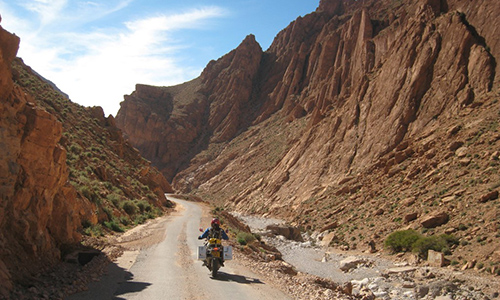 Adventure Motorcycling Tours...
... similar to our FlyRide™ holidays, but in more unusual locations!
Motorcycle along carefully researched, pioneering routes where the quality of the ride is top priority.
Adventure touring offers a unique experience, through magnificent and diverse scenery combined with colourful local culture. Enjoy the journey, get off the beaten track and ride the road less travelled.
We include quality hire bikes from BMW or Triumph - plus support vehicle…just in case!
More about Adveture Tours ...
What's Adventure Touring?

We are passionate about travel by motorcycle and whether you decide to travel with us for twelve days or five weeks, our aim is to give you a genuine overland experience, supported by years of relevant expertise. We do this using the following principles:

Creating unusual and pioneering routes by putting the quality of the riding as our first priority, so that they offer a unique experience, through magnificent and diverse scenery, and combining it with colourful local culture.

Getting you involved in the Tour process right from the start, giving you advice to prepare yourself and your bike and encouraging you to be a proactive member of the team; the more you put in, the more you get out.

Giving you the ultimate freedom and flexibility, after all that it is what motorcycling is all about. So within our itineraries, you are free to determine your own riding pace, in your own way and decide where and when to stop. We just give you some simple guidelines.

Providing you with the best Support Team possible, with the right balance of technical qualifications, people skills, hands on motorcycle travel experience, brought together in a professional, approachable and enthusiastic manner.
Reassurance

On every MCi Adventure Tour, tour guides will accompany you so that you can have confidence in the operation of the tour. You will follow an itinerary that we has been planned, researched and prepared and, most important of all, in the unlikely event of things going pear-shaped, we are there with you and can help.
Bike Hire

We only deal with established hire companies that can deliver the bikes we believe to be most suitable for the tour. If you have a specific motorcycle requirement we will do our best to accommodate you. Obviously the earlier you book, the more likely it is that you will get the bike of your choice.
Financial Protection

MCI Tours is a FULLY BONDED motorcycle specialist tour operator.

All of our motorcycling holidays carry Certified Financial Protection insurance cover.